We hear alot latelly about Haitie and the earthquake victims. We certainlly should help them. Did you know there are lots of flood victims in India? Until starting this website; I didn't.

They have huge flooding problems every year. I use to live in Louisiana. One time we got 14 inches of water in out apartment from a flood. At the time it seemed devasting. We quickly bounced back and never was homeless or without food. We mainlly lost material possesions.

Wouldn't it be aweful to go through such flooding as happens in India and even lose loved ones? They love their family members as much as we love ours.

74 killed in flooding in India
Official says most deaths caused by buildings collapsing under the deluge.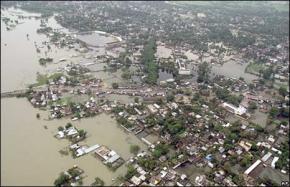 updated 11:00 a.m. CT, Thurs., Aug 21, 2008
LUCKNOW, India - Monsoon rains pummeled northern India, bringing dozens of buildings crashing down and killing 74 people, police said Thursday.
The deaths were reported in Uttar Pradesh state, one of India's poorest, bringing this monsoon season's death toll to more than 300 people across India.

Monsoon season, which lasts from June to September in India, brings rain vital for the country's farmers but also massive destruction. Floods, mudslides, house collapses and lightning strikes kill hundreds every year.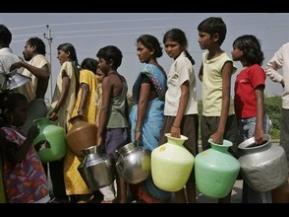 This picture shows me that these people are experiencing life a whole lot rougher than my life. They are in long hot lines trying to get clean water. I am in a comfortable home typing away at my laptop while sipping a coke.